There is a moderately rising density of data breaches on websites day by day. In recent years, there has been an increase in the number of data breaches from 662 to over a thousand according to the statista in the United States.
Some sectors, such as government and healthcare, have been particularly hard hit. For example, according to recent Verizon data, data breaches in the healthcare industry have surged by 58 percent.
"What precisely is a website data breach, and should I be concerned?" you may wonder.
Understanding what these threats involve and learning efficient techniques to prevent and deal with them, on the other hand, can have a significant impact on your company.
What Is a Data Breach on a Website?
sensitive information, private details, trade secrets, and even sensitive information, all of which could put the organization's security in jeopardy including in stolen data. an unauthorized person gaining access to your laptop, email account, or computer network, sending an email with personal data to the wrong person.
The following are some examples of data taken as a result of a website data breach:
Identity information is lost when passwords are stolen (date of birth, email ID, location, etc.)
hard copy notes, USB drives, PCs, and
mobile devices are all at risk of being lost or stolen.
bank account information(credit card, passwords, etc.)
medical background etc.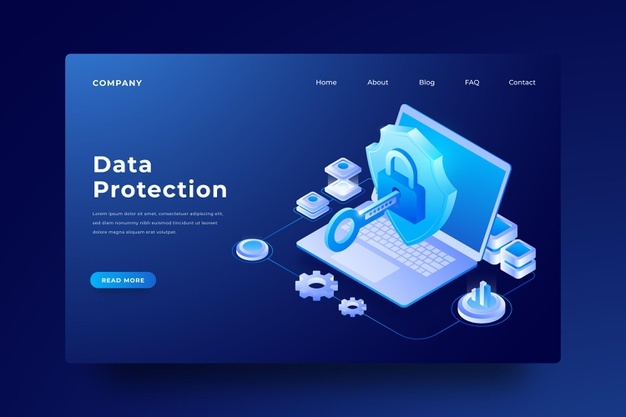 It will be harmful to business as well as for the person whose information is stolen If this information is stolen and misused as a result of a data breach
Assume that:- The personal details such as trade secrets, bank details, personal information, documents related to a meeting, etc. can be misused as a result of a website data breach, leading to identity theft, empty bank accounts, and unauthorized payments, among other sorts of crime, If you're a business owner. So, you need to protect sensitive client information like their financial history.
Ecommerce organizations must be especially cautious about website data breaches because the majority of their transactions take place online, putting practically all of their data at risk.
This is critical since you are losing not only data but also money. Consider the following: According to RiskIQ, cybercrime costs businesses $2.9 million each minute, with major corporations losing $25 per minute as a result of data breaches.
Do you still want to take the chance of a data breach?
What Leads to Data Breach?
A trained hacker isn't required for a data leak. A website data breach can be caused by something as easy as losing your smartphone. Other reasons for website security breaches include:
Hacking: Hackers of various types operate alone or in groups to compromise and sell sensitive data. This is one of the most common types of data breaches, and it usually does the most harm since not only may you lose your data, but you could also lose your reputation.
Unexpected access: when you connect to a coworker's computer for a few minutes and gain access to important information you weren't authorized to see, a data breach occurs. Many colleagues may use a device to collaborate on the same project, which happens more frequently than you might expect.
When a worker inside the organization (company) gives information to outsiders for money or another advantage, the data is breached by an "internal spy".
While some of these causes can be harmful to organizations that deal with sensitive data (for example, payment processing apps), the majority of them can be avoided. To assist you in strengthening your security, we'll go over common data breach techniques and how to protect your company from them in the sections below.
What are the causes of data breach occurrence?
People utilize a variety of methods to trigger data breaches on websites. Depending on the sort of data being hacked, whether it's a single or team effort, and the intent of the breach, these can be spontaneous or well-planned.
Here are some of the most prevalent techniques to be aware of, according to cybersecurity experts:
Phishing
Phishing attacks are intended to deceive people into divulging personal information. These appear to be legitimate messages from reputable organizations, but they are actually sophisticated traps set by hackers to gain access to your personal information.
Users who are not tech-savvy or who are in a rush may click on the bogus links by accident, revealing sensitive information to the fraudsters.
How Can Data Breach Be Avoided?
While every online business faces certain cyber dangers, there are various strategies to prevent or at least mitigate the effect of data breaches. Let's have a look at a few of them in the gallery below.
Keep an eye out for imperfections.
As for an absolute structure/arrangement, there is no such thing. Hackers use flaws in every system, network, server, and device to get access. The sooner you discover these problems, the better protected your company will be from website data breaches.
One approach to achieve this is to look for weaknesses in your security system on a regular basis. This can be accomplished by employing security software that is specifically designed to scan your machine for such flaws.
If you don't want to trust software there is another option for you. Many firms employ professional white-hat hackers to identify system flaws and patch them before other hackers have a chance to exploit them. This takes longer but can provide more dependable answers, especially for larger firms that deal with a lot of data.
Paid white-hat hackers may be able to uncover a recurring problem before it's too late because human testers are better at recognizing trends.
Employees Should Be Trained
While human testers can be a fantastic asset to your company, sometimes it's your own staff who are the ones triggering the breaches you're attempting to avoid.
In many cases of website data breaches employees/workers by mistake reveal(means release) information to persons who do not have authorized access to this data. For instance, the data is considered "accidentally" breached if only an employee emails, private information reached to a third-party client by accident, or if sensitive information is released through a shared device in the office.
It's still bad for business, but it's caused by human error, which is frequently due to an employee's irresponsibility, lack of technical understanding, or data-handling abilities.
These kinds of unintentional online data breaches are possible to avoid with proper employee training to increase their awareness of data management. Various programs, such as the Polymer DLP Behavioural Approach, can be used to train personnel about cybersecurity.
Holding mini webinars in consideration, if a complete program is taking too much time or financial responsibility. Invite a guest speaker or show a documentary that talks over the results of unintentional(accidental) website data breaches and how to avoid them.
These may appear to be minor measures with insignificant outcomes, but early employee training can go a long way toward securing your organization and reducing the risk of data breaches.
Make sure you have backups of your data.
A website data breach can wipe out crucial information from your system in some situations, despite your best efforts to avoid it. While it's possible that it can be retrieved, it's always a good practice to back up any and all data.
You won't be fully lost if your info is stolen this way. In place still, you are having a safety net. Depending on your company's demands, you can either invest in a cloud backup system or hire a third-party service.
Set up a Firewall
One of the most fundamental/primary, yet secure, ways to protect oneself against data breaches on the web is a firewall. By installing a firewall in your computer/laptop you can prevent unauthorized traffic and malicious software from entering your network. This can serve as the first line of protection, and it can be used in conjunction with other security measures to reduce the risk of hackers and other criminality.
Sensitive Data Should Be Encrypted/Protected
Another simple but effective approach for protecting your company from internet data leaks is to use a firewall.
Encryption procedures of various types can protect secret data that is only intended to be shared with specified persons within an organization. Only these people will have access to it and will be able to distribute it, keeping it in small circles.
Online payment apps, email service providers, and messaging apps like WhatsApp use Encryption to safeguard user privacy and increase security when sharing personal information on the web/internet.
Keep an eye on database activity.
Looking for a way to get a birds-eye perspective of your security system? Consider keeping an eye on database activities. Many teams are still in the early phases of adopting data security technology, so this may be a new notion for them, but it's worth considering and can be successful for businesses of all sizes.